New Patients
What to Expect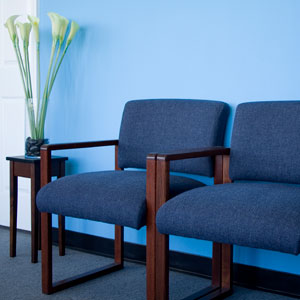 Regardless of your age or health history, we welcome you to our comforting office to heal and get back to the life you love. We'll treat you as an equal, educate you about your health and team up with you for your greatest healing.
We'll also eliminate any shred of apprehension you may have and make you feel at home!
Your First Visits
After taking care of your paperwork, you'll promptly meet Dr. Frank Vesprini. He'll explain everything to you including what to expect from your adjustment, financials, and how chiropractic care works and will determine if he can help.
Your second visit will be a shorter visit. Dr. Vesprini will evaluate your response to the first treatment and answer any questions you may have regarding your condition.
The second visit may take as little as 15 minutes or as long as it takes to satisfy any questions you may need to have answered.
Your X-ray Report Visit
On your report visit, we explain what we found and how we may be able to help you. We'll always make sure you're in the loop with everything we do. Dr. Vesprini enjoys answering any questions and will answer as thoroughly and sensitively as possible. We'll discuss what you can expect regarding:
What's going on with your health
How long it will take you to heal
How much care will cost
The service is great, and there is genuine care and concern from the staff and Dr. Vesprini.

Great clean and relaxing environment!

Everyone is so professional and kind. Very relaxing environment.

The doctor was very kind and taught me about what is going on with my back. He was very thorough and sensitive to my needs. I felt so much better after leaving the office. I'm definitely going to come back for more treatment!

They really helped me feel better after I had suffered a pulled muscle in my back. I'm so glad I came to this chiropractor's office.

A wonderful experience for the first time to a chiropractor. Definitely will be returning for any and all chiropractic matters!

Amazing place and even better staff! You can tell they care about their patients!

Very friendly doctor and staff.

I was scared before my visit, but they made me feel very safe and comfortable. It was a great visit.
Regular Care for a Healthy Life
A typical office visit is easy and relatively quick. Your time will be treated with the utmost consideration. We believe that if you want to feel good all the time, it takes regular maintenance care and a healthy lifestyle.
Just like you brush your teeth, exercise and strive to eat healthy, chiropractic care can help you stay well. Our entire team encourages you to choose a healthy life as well.
Ready to get started? Give us a call and let's see how we can help you.
CONTACT US »

New Patients | (313) 527-7070